A week or two ago I posted how we were renting out our home on AirBnB and how nervous I was, not just for my stuff, but for the community.  Well, I'm here to say it was an incredibly positive experience with a few lessons learned.
My husband and I used the opportunity to clean out and shred a lot of our "why do we still have this?" paperwork prior to our guests arrivals.  My husband believed the worst that could happen during this whole experience was identity theft, so all of our key documents, think passports, social security cards, checkbooks were all hidden.  One of these days we will buy a fireproof safe but until then, we were like little squirrels hiding nuts around the house, car, and office with our key documents and jewelry.  Good news, we purged a lot of unnecessary crap, like my medical bills from 2010.
Once we left for the long weekend and locked our doors, we had four days for our imaginations to cook-up the best and the worst.  So when we returned home we were really nervous about what we would find and expect, apart from about 10 loads of laundry.
Our home was immaculate.  And oddly enough, they even fixed our salt and pepper shaker!  We have the below Kate Spade Salt and Pepper set but I had broken the horn off the giraffe.  We had always just left the broken horn next to it on the table as a reminder to eventually try and fix it but I had never really gotten around to it.  Well two days after getting home, we sat down to dinner and I noticed the horn was back on our giraffe!  So whoever fixed our giraffe, thank you!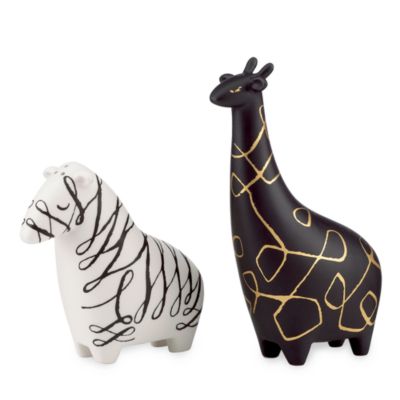 I don't know who had a hand in fixing our little pepper shaker, because we had two separate sets of guests staying with us on a super quick turnaround.  Another source of stress, but by that point what could we really do?  We were upfront with the second group about our inability to get a cleaning service in on-time, and they seemed okay with this fact.  However, this also garnered some great post-stay feedback that we will use going forward (see our lesson learned below).  We left out clean sheets and fresh towels and instructed our previous guests to strip the beds.  Our guests missed that whole "strip the bed memo", but despite that, our second guests also seemed to enjoy their stay.
Now, if you have anyone looking to stay in Philadelphia for the Pope's visit in September, send them our way!
Lessons learned:
Don't double stack guests
Only double stack guests if you can get a cleaning service in
Anticipate extensive amount of laundry
Set very strict check-in/check-out times
Hire a cleaning service